We are big fans of
Mie
. Either cooked with broth to become a
Mie Ayam
/ Mie Baso/ Bakmi, or saute with vegetables to become Mie Goreng/ Kwetiaw Goreng/ Ifu Mie. All of Mie is yummy for us.
However, some Mie stands out among the others. Legendary places are scattered all around Indonesia, and today, we are lucky to be able to visit one of the Legendary
mie
vendor: Bakmi Gang Kelinci.
Tucked in a small alley called (obviously...) Gang Kelinci, the restaurant offered traditional noodle-based dishes consisted of
Mie Ayam
, Fried Noodle and
Siomay
.
The portion is adequate. The taste was great. And the most important part: we managed to tick one of our bucket list of visiting legendary noodle vendors all around Indonesia. Yay!
Enjoy!
Bakmi Gang Kelinci
Jl. Kelinci Raya No. 1-3
Pasar Baru Sawah Besar
Jakarta Pusat DKI Jakarta
Jakarta Pusat
Phone: +62 21 3522288
Website: http://www.bakmigangkelinci.com/
Their Famous Siomay
Their Famous Chicken Mee (Mie Ayam)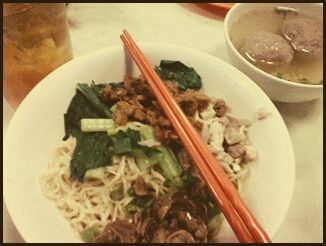 Mie Ayam with Meatball