Hot sauce and Indonesian people is inseparable. Most of dishes that came from ancestors of Alia and Me is usually drizzled with hot sauce/ chili sauce.
Rendang
,
Ayam Pop
,
Gulai Ayam
, Fried Chicken,
Lalapan
, and others must be accompanied/ created with hot sauce.
That is why we liked to try different takes on hot sauce, especially from outside of Indonesia. Today we review the Lingham Chili Sauce. Celebrating their 100 years of serving, we really think that they must have done a great job in serving these flaming chili sauce.
Quick glance to their ingredients, they only add chili, sugar and water to their ingredients. No onion, no preservation, no shallot, just plain old chili sauce.
The taste:
Great! Not too spicy, but really makes a great condiment for foods.
Recommendation:
add it to your fried chicken, chicken porridge, or plain omelette to start up your day.
Enjoy!
Lingham Chili Sauce
LINGHAM & SON (M) SDN BHD
LOT 1956, JALAN BANGI LAMA, BATU 1 1/2,
43500 SEMENYIH,
SELANGOR DARUL EHSAN,
MALAYSIA
Tel: +603 8723 9588
Fax: +603 8723 7577
Website: http://www.lingham.com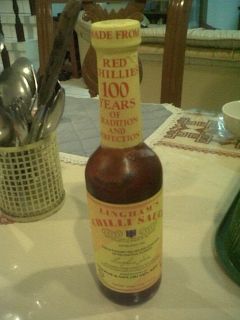 The Bottle