Burger and Rendang are easily included into our top ten most like-able dish that we have eaten. So, when we hear that Core Burger in Jalan Ternate serves a dish combining the two, we did not think twice to go here right away.
The location tucked nicely in Jalan Ternate, just in front of the newly opened Gudang Jam. The place is small with bar and seating area that can cater around 20 people or so. Their kitchen is divided into two areas: The kitchen where cooking is placed neatly in front of the bar while the beverage section is located uniquely in a VW Combi. Very interesting.
The place is jointly serving two types of food: Fast Food, represented by Core Burger and Noodles, represented by Baso Mas Tato. The menu is simple, easy to read and quite affordable. I ordered the Rendang Burger and Thai Iced Tea while Alia ordered the Mie Paporit and Thai Iced Tea.
The serving is quite generous. Easily fulfill one hungry stomach. The Rendang and the noodle tasted quite OK, with the burger being served uniquely with Mustapha Fries as a side dish. With a price of only Rp 20.000,- (US$ 1.7) I think it is a bargain.
Enjoy!
Core Burger/ Baso Mas Tato
Jalan Ternate No. 10
Bandung
Twitter: @BasoMasTato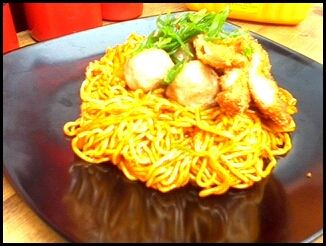 Mie Paporit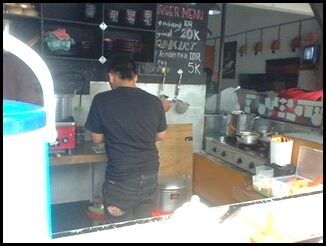 The Kitchen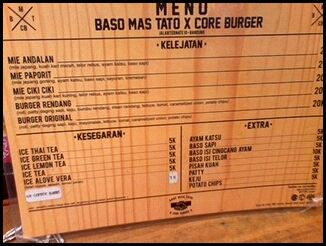 The Menu
Thai Iced Tea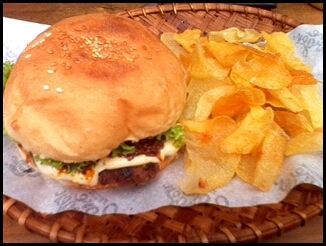 The Coup de Grace : Rendang Burger