One of the oldest fried chicken franchise to be found in Bandung, this vendor are famous in its original place, Jalan Panaitan Bandung. So it is quite a bit surprise to find their branch in the food court of IBCC, Bandung.

Combined effect of great x-banner display, hungry stomach (it is already 2:00 PM as we speak), and imagination leads me to select this vendor over more than twenty other vendor in this food court. Imagination flies as I wait anxiously for their serving of Paket C which consisted of rice, fried chicken, fried tofu, fried tempeh, lalaban and chili sauce.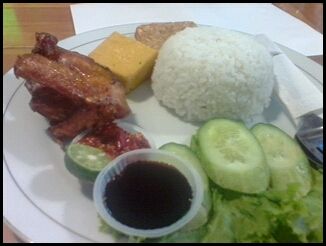 Complete Paket C
Finally the serving comes. With happy face I attack the food like a hungry coyote (well, at least that is what Alia describe about my hungry feasting today :P). Yum! Crispy fried chicken combined with hot fried tofu and tempeh and spicy chili really combined great together.
Hungry stomach replaced with happy stomach leads to imagination of displayed king size bedroom in the Informa section of IBCC.
I really missed my bed so bad right now... -___-".
Enjoy!
Ayam Goreng Nikmat
Plaza IBCC Food Court
Jl. Jenderal Ahmad Yani 296
Bandung