Bali and Pie Susu (Small Milk Pie) are allready become a synonym. As it become bigger phenomenon as an alternative to the already popular Kacang Bali (Balinese Peanut), when someone go to Bali nowadays it is considered as one of the main gifts to be bought for Families and Friends (especially co-workers who are demanding "happiness, guilt and jealousy fee" over your picnic :P).

More and more vendors selling Pie Susu is appearing in Bali. So, we are excited to find that one of my dad's co-worker deliver the "happiness, guilt and jealousy fee" to us in the form of Pie Susu.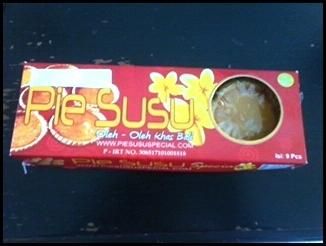 The Box
The one that we have today came from Pie Susu Special brand. One box consisted of 9 pie. The company website stated that they already in business since 2007, and they also able to provide with a delivery system to anywhere in Indonesia. Quite neat and great touch in our opinion. Their price per box is Rp 17.000 (US$ 1.3) for original flavor and Rp 20.000 (US$ 1.7) for cheese flavor.
The taste is OK, and it really healed a bit part of us who are longing to go Bali. Hopefully we can go there again soon.
Enjoy!
Pie Susu Special
Jl. Semeru No. 30-32
Denpasar - Bali
Phone: +62 361-7953837 and +62 361-7980509
Website: http://www.piesususpecial.com