We don't know who invented this snack.

Based on our hypotheses:

We think historically it was initiated by the Krip Krip noodle snack that were famous during our elementary school days, then it went haywire during our Senior High School to College era when students, poor and hungry tried to come up with a new snack. Here, a new snack were invented: Behold of the Instant Noodle Eaten Raw era! Cost less than Rp 500 back then, it was becoming a staple of snacks for some of us.

Food producers, looking for the opportunity to profit from this phenomenon, decided to cash in with the creation of these snack creations such as the brand from Mamee and this particular food: Enaak.

Somewhat, we are stuck with this snack right now. 10 packages can be downed in almost a day that somewhat Alia already think that we need to go to an intervention and join a rehab just to limit our daily consumption.

Hmmm... After this post, We DO think that we need an intervention. Perhaps for a couple of weeks from now, it is Broccoli and Carrot as a snack for us.

Enjoy!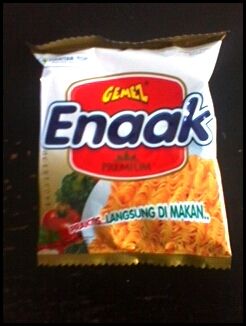 Snack so good it need an intervention...