When we reached Jakarta, we were really hungry. We think that Pasar Baru area will be opened until 10 PM or something. After all, it is a marketplace right?

It turned out we were dead wrong. Sooooo wrong...
When we decided to go and eat at 8 PM we were quickly presented with a bitter realization: Everything was closed at that time.
Panicking and more importantly, hungry, we searched for a place to eat there.
We finally found a place where it seems everyone are eating and drawn to a same place. And it is fully packed. The Ayam Kremes Wayang.
In front, there is a signage that says: Package consisted of Ayam Kremes (fried crispy chicken) + Lalap (raw vegetable) + chili sauce + iced tea price Rp 15k (US$ 1.5). Is it too good to be true?
When we reached here, we are pretty much game on whatever they are serving. And it is true. When ordering, it turned out we are pretty much ordering the last piece of chicken that they have there.
We ordered 3 Ayam Kremes + Rice + Iced Tea + Mineral Water. It turned out the chicken was very crispy and good. We don't know what they put in the ingredients but if comparing them with the now trendy Korean chicken wings, this babies are sure can compete. The chili are super hot and the Iced Tea are thick with sugar, Javanese style. A really good way to end your night (with minimum budget).
Enjoy!
Ayam Kremes Wayang
Pasar Baru
Jl. Samanhudi
Jakarta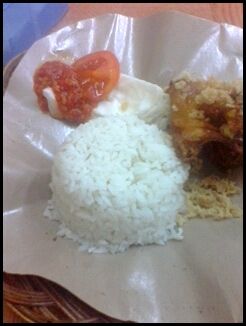 Yum!