Today, we have the chance to "loot" our parcel delivery. Well, technically, it is not our parcel, but since no one has opened them, we decided that we should do the honor :).

Fun things about parcel, is that you can expect to find a funny and mysterious items, sometimes very unfamiliar for us. It is like visiting an antique shops or flee markets, you can always find something that is amusing for you.
Like today, we have the chance to taste this instant coffee. Alia says that this prepackaged instant coffee has hit the shelf of certain supermarkets in Bandung. Intrigued, as an amateur instant coffee connoisseur, I have decided to taste them myself.
One box consisted of 6 pack of instant coffee. The taste is very delicate, with the hint of fruit at the end. Nice flavor based for me, although quite hit for Alia, as she preferred a strong black coffee.
As the box only consisted of 6 pack, it is only a matter of time for me to ask myself: When will Lebaran and Christmas comes again in 2014?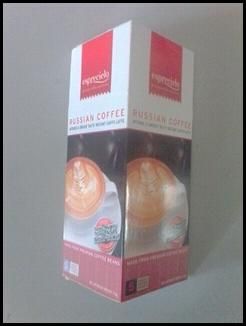 Russian Coffee Anyone?