Inspired by Michael Smith, in one of his "Chef at Home" episode, we decided to try and cook his super simple fruit pie (his version is apple pie) with a little adjustment.
First we used additional margarine, not wholly butter, as we still got quite a lot of it left when Alia was cooking her famous Kaastengel. The second one is that we used not just apple, but various fruits mixture.

Enjoy!

Our Homemade Fruit Pie (Inspired by Michael Smith's Chef at Home)

Ingredients:
1/2 cup of sugar
1/2 stick of butter
1/2 stick of margarine (give or take)
1 1/2 cup of baking flour
1 egg
Fruits of your choice (Apple, Kiwi, Strawberry, etc.)

How to make:
Combine sugar, butter, and margarine, and whisk them together using electric mixer.
After combined, gradually add the flour and egg.
Kneed all of the mixture into a solid dough, wrap them using plastic and refrigerate (from 15 minutes to whole day).
Kneed the dough up to the appropriate size, place them upon the baking tray.
Place the fruits over the dough, and bake them on the oven at 175 degrees Fahrenheit until the dough turned golden brown and the fruits soften.
Serves them using Ice Cream or Whipped Cream.
Enjoy!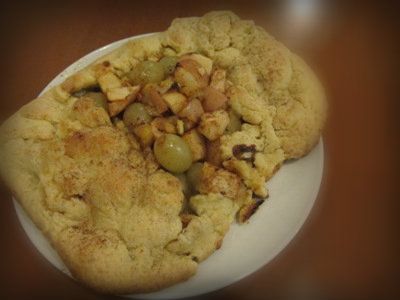 Fruit Pie (Crumble) #1
The Dough
Fruit inserted into the dough
Mid-Baked Pie
Fruit Pie (Crumble) #2
Fruit Pie (Crumble) #3
Half of it :)
It will much better if combine with ice cream